Pig Production
Semen Preservation
Standardized the method of collection of semen, evaluation, dilution and processing and preservation of boar semen.
Boar semen was successfully preserved in liquid state at 15-18 oC as well as in frozen state at -196 oC.
Standardized the technique of A.I. in pig.
First A.I. born piglets were produced after insemination of sow with frozen thawed boar semen.
Studied the sperm damage during the process of freezing and post thawing by fluorescent staining and Electron microscopy.
Artificial Insemination in Pig
Popularized the A.I. technology by field demonstration and training.
240 inseminations were done in 26 selected villages in Ri-Bhoi district and obtained 79.40% pregnancy rate with average litter size of 8.2.
80% of farmers adopted the A.I. technology in the selected villages.
Five training programmes were organized for the educated unemployed youths and Veterinary Field Assistants (VFA) regarding A.I.
Five training programmes were conducted for State Veterinary Officers where 70 Veterinary Officers were trained regarding modern pig breeding management and A.I.
Six training programmes were conducted for the farmers on pig management and breeding.
Development of three breed cross pig
Three breed cross pig was developed by crossing Hampshire male with selected local female pigs and F1 female was again crossed with Duroc male in order to get lean meat along with good mothering ability, high litter size and better adaptability to the local conditions..
Duroc pigs were procured from NRC on Pigs and their productive and reproductive performance was evaluated under Meghalaya conditions.
Growth performance of three breed cross pigs are under progress.
Pig-Fish Integration
Integrated pig-Fish model was developed at Livestock Farm Complex with the pond area of 0.05 ha in order to get better profitability per unit area with optimum utilization of pig dung and other farm resources like vegetables etc.
20-30% of pig feed was replaced by feeding vegetables and other cole crops grown in the field while no supplementary feed was given to the fish except the dung of two pigs was put daily in to the pond.
During the six month study period, fish production was @ 10.75 t/ha while pigs attained the average body weight of 92.56 kg.
Infertility in Dairy cattle
215 blood samples, 164 fodder samples and 154 soil samples were collected from 7 districts of Meghalaya.
Survey regarding fertility status of dairy cattle revealed that most of the parameters like age at puberty, age at first conception and inter calving interval were higher. Similarly, post-partum estrus interval, service period and number of services per conception were found to be higher.
Major reproductive disorder was found to be anestrous (34.38%) followed by repeat breeding (29.22%).
Mineral estimation of serum samples revealed that both macro nutrient (Ca, P, Mg) and micro nutrients (Zn, Cu, Mn) were below the normal range.
Proximate analysis of fodder samples (district wise) has been completed.
Mineral estimation of fodder and soil samples are in progress. Most of the soil samples were found low in available N, P, Ca, Mg while available K and S was found in medium concentration.
Percentage of samples showing deficiency in Zn, Fe, Cu and Mn were 66, 13, 31 and 15 respectively.
Rabbit Production
Developed the package of practices for broiler rabbit production.
Productive and reproductive performance were studied under field condition.
20 farmers were selected from East Khasi Hill district of Meghalaya for rabbit rearing.
All the farmers were given 3 days training on rabbit and pig production in the Division of Animal Production.
One unit of pig (two female and one male) / one unit of rabbit (two female and one male) was given to the selected farmers.
Backyard Poultry Production with Improved Germplasm

They can thrive well under backyard system of management.
Their feather colour similar to local indigenous chicken.
The taste of their meat and egg is like local chicken and with better quality meat and bigger egg size.
Performance is better than the local chicken.
Performance Comparison
| | | | |
| --- | --- | --- | --- |
| Parameters | Desi fowl | Gramapriya | Vanaraja |
| Annual Egg production (Nos.) | 50-60 | 140-150 | 120-140 |
| Live Body  Weight (Kg.) | 1-1.5 | 2.0-2.5 | 3.0-3.5 |
Feeding Practice and Health Management
Scavenging
Feeding of broken rice, Broken Maize, kitchen waste, crop by-products, shell grit, etc.
Supplementation of concentrate feed
Vaccination Schedule

Name of the disease

Name of the vaccine

Age

Marek's disease

Hvt. M.D. Vaccine

Day old

Ranikhet disease

F-1/Lasota

4 - 7 days

I.B.D

Intermediate plus

14 - 18 days

Ranikhet disease

F-1/Lasota

35 days

Fowl pox

Chicken embryo adapted

6 - 7 weeks

Ranikhet disease

R2B strain killed vaccine

8 - 10 weeks
Alternate Poultry Species for Rural Poultry Production
Performance
| | | |
| --- | --- | --- |
| Parameters | Japanese quail | Turkey |
| Age at First Egg (days) | 50 | 200 |
| Annual Egg production (nos.) | 200 | 100 |
| Egg Weight (g) | 10 | 70 |
| Body  Weight at Market Age (g) | 180-200 | 4000-5000 |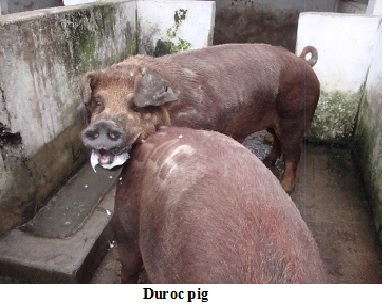 Duroc is famous for lean meat/pork production, Cooper red colour body, long body and very good build up, drooping ear, good growth and production potential. This picture depicts mating behaviour in adult pigs with frothing and likelihood of mounting female.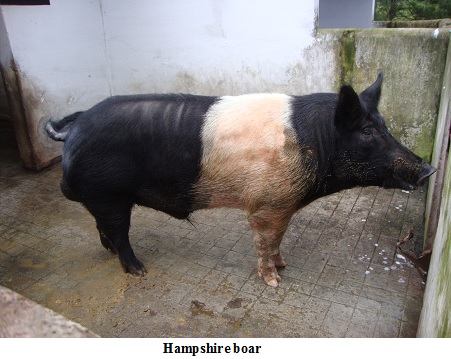 Hampshire boar (male pig) for breeding purpose.  Hampshire is well adapted exotic breed of pig in north east region. This is used for grading up of local pigs to develop 75 and 87.5 percent upgraded pig variety, which is already developed at Davison of Livestock Production, ICAR Research Complex for NEH Region, Umiam. 
Semi intensive goat house for keeping goats. Concrete or wooden flooring, asbestos roof with fencing.  Goat house floor should be raised from the ground level from 05 to 1 meter.